How to View Stock Adjustment List in BMO Online Inventory System
Although we do not recommend frequent manual stock adjustments but there are inevitable reasons to do so such as:
inaccurate stock intake or stock count causes the usual stock variances
damaged goods when their goods are made from fragile materials or mishandled.
warehouse with bad security system leads to theft or robbery
etc
Stock inaccuracy often occurs. Therefore, BMO Online Inventory Management System is required to keep track all stocks and reduce stock variance to a minimum level.
You can view the stock adjustment list in BMO Online Inventory Management System by following the steps as shown below.
1. Click on the "Stock Adjust List" (Item > Adjust > Stock Adjust List) on the navigation menu bar.
Please click on image to view clearer.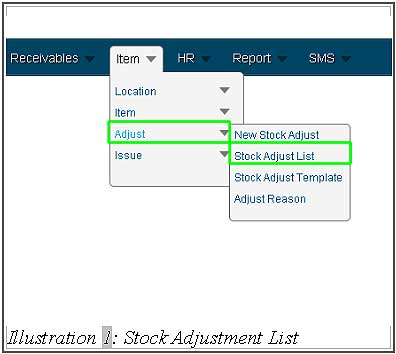 ---
2. You can use the "Adjustment List" which filters and displays your required listing. You can filter by date using "From Date" and "To Date or simply clicking on the "Calendar icon" to pick a date. In addition to that, you can filter through "Item Code", "Item Desc", "Branch" and "Inventory Loc" to filter out unrelated items.
When done selecting the necessary filters, click on "Search" to see the adjustment list below. "Reset" is to reset the search/refreshing the page.
Please click on image to view clearer.

---
3. In the adjustment list shown below, you can arrange your results in ascending or descending mode. E.g, Arrange according to latest or earliest date by click on "Arrow" button beside date. Additional features include, "View" stock adjustment and print by clicking on "Print PDF". The top "Print PDF" is to enable you to print all stock adjust lists. The individual prints will require you to click on "Print PDF" in the most right column.
Please click on image to view clearer.

---
If you need further assistance please contact us!
Person incharge: KK Leong
Mobile Number: +6014 602 8442
Hotline: 1800 87 7061
Office Number: +603-27803880 / +603-7980 1388 / +604 642 0621
Email: sales@bizcloud.asia